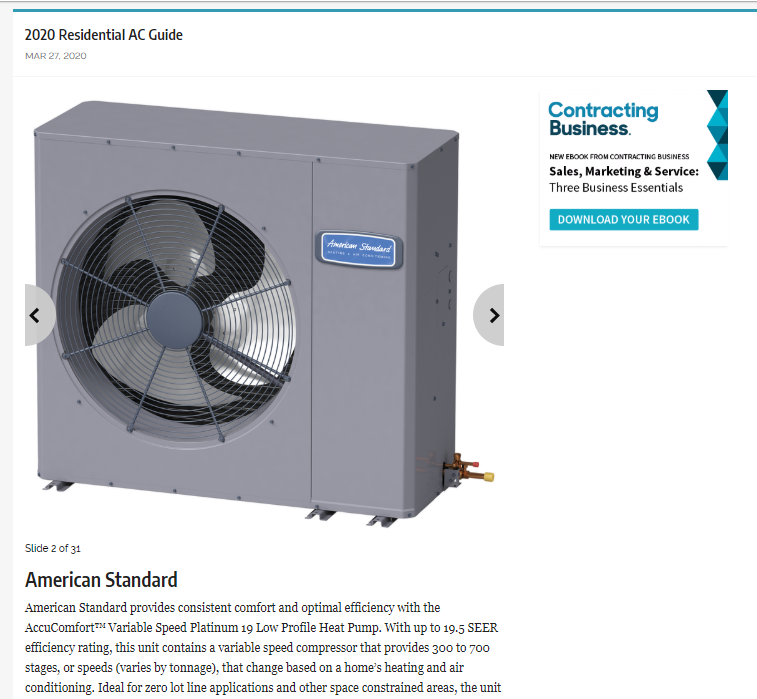 The American Standard brand scored two key pieces of PR exposure recently.
The Platinum 19 represented American Standard in the Contracting Business 2020 Residential AC Guide. The guide highlighted the value proposition of the product, including its ultra-quiet operation that maintains a sound level of 43 to 57dBA.
In addition, Mike Topitzhofer, National Business Development Manager – Building Science for American Standard, appeared in an article in Mechanical Hub, where he talked about the value of addressing indoor air quality with customers.
"An HVAC professional can help explain the importance of a right-sized HVAC system equipped to provide quality airflow, indoor humidity management, and air filtration regardless of the season or climate," Topitzhofer said in the article.
March PR Recap
Up Next for PR:
The Platinum 19 will also be featured in ACHR's Residential Cooling Showcase, which is expected to launch this month.
Plans are in the works to roll out additional consumer-focused PR throughout the remainder of 2020. Stay tuned for more details!
Have PR ideas? Share them with Rayanne DuChane, PR and Brand Communications Manager: rayanne.duchane@tranetechnologies.com