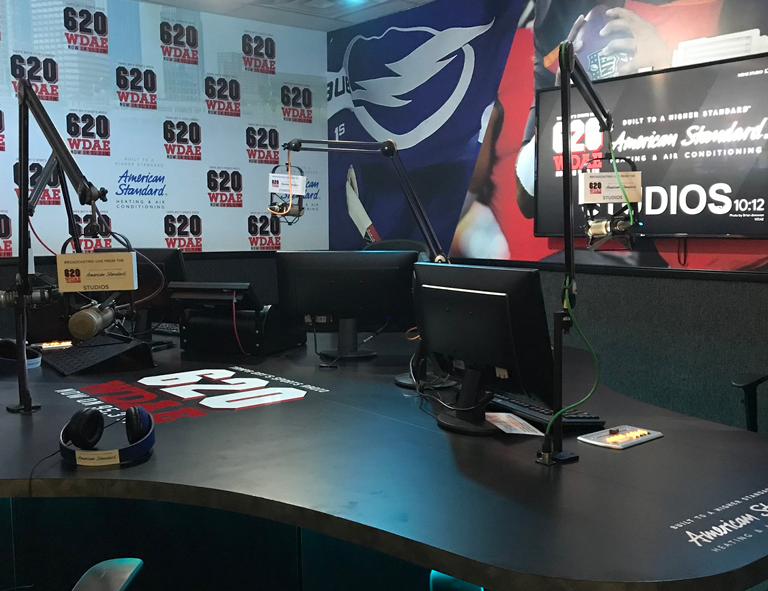 iHeart Media has been remodeling their now "American Standard Heating & Air Conditioning Radio Studio" to prepare it for the big reveal. Ferguson HVAC in Tampa, FL partnered with iHeart Media to own the studio with the American Standard brand.
620 WDAE, the number one sports talk radio station in the Tampa/Bradenton area, presented an amazing opportunity to increase brand awareness in that market while supporting the American Standard Dealers' marketing initiatives.
Through the agreement, iHeart covered the studio with the American Standard logo, and radio announcers mentioned American Standard Heating & Air Conditioning twice every hour, while many 30-second commercials played throughout the entire day.
Ferguson's General Manager, Hunter Shepard, and Sales Manager, Courtney King, were joined by some of their associates for the big reveal on August 8th, which played on air and live on Facebook!
Ferguson HVAC and iHeart plan to team up to own the Tampa Bay Buccaneers Football pre-season, post-season, and regular season talk shows. American Standard will be promoted throughout every airing on the radio, the 620 WDAE website, and social media.
There will also be opportunities for local American Standard dealers to buy into the partnership and add their dealer information to the marketing initiative.