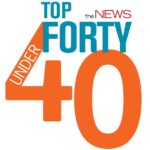 Anne Hultgren, director of channel marketing for Ingersoll Rand's Residential Heating & Air Conditioning Business, has been named to the "40 Under 40 in HVAC" list for her contributions to the industry by The NEWS, a weekly news magazine for HVACR contractors. She was selected from among 175 HVACR professionals who were nominated for the honor, representing every aspect of the industry, including manufacturing, distribution, instructional, and contracting sectors.
Anne has spent more than 15 years in the HVAC industry, beginning in sales of commercial HVAC products and systems. From there, she moved into product management and other marketing roles in Trane's aftermarket business. In her current position, she supports dealers and distributors through loyalty programs, local marketing advertising support, and tools and training. She believes success in this business comes from understanding all levels of customer needs.
"HVAC touches each of us every day and provides customers in many different forms," said Hultgren. "From consumers to contractors to facilities managers, each customer has different needs and priorities. I am passionate about understanding these needs and helping to make their experiences better. The industry is changing so rapidly due to the changes in digital and the changing expectations of customer experience. My goal is to help our customers understand and navigate these changes to help grow their business and to provide the best experience to our end consumers."
Congratulations, Anne, on being selected for the 2018 list!